SEO For HVAC Companies: The Complete Guide.
Learn what it takes to rank your HVAC business in Google or trust our team to do it for you.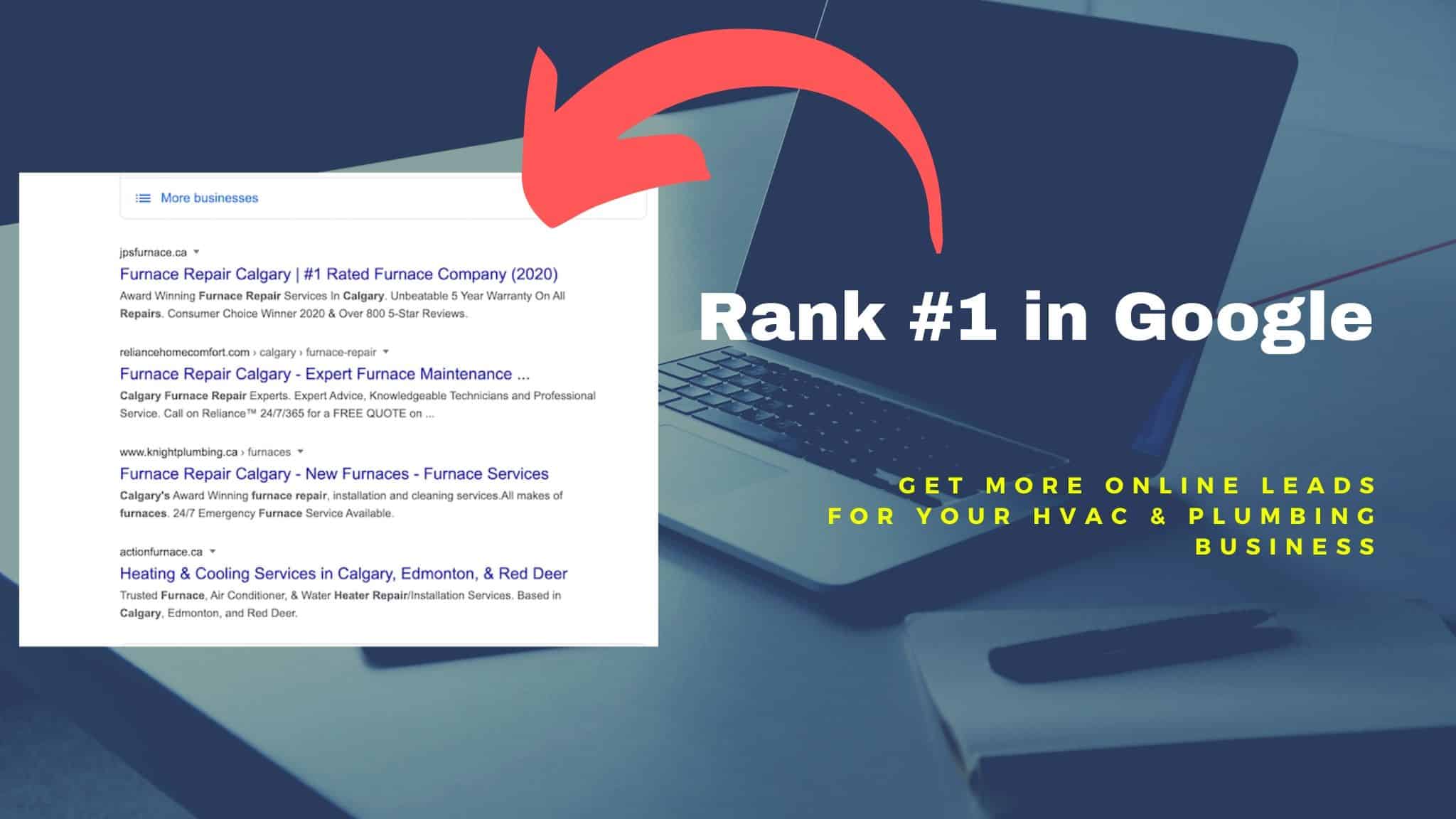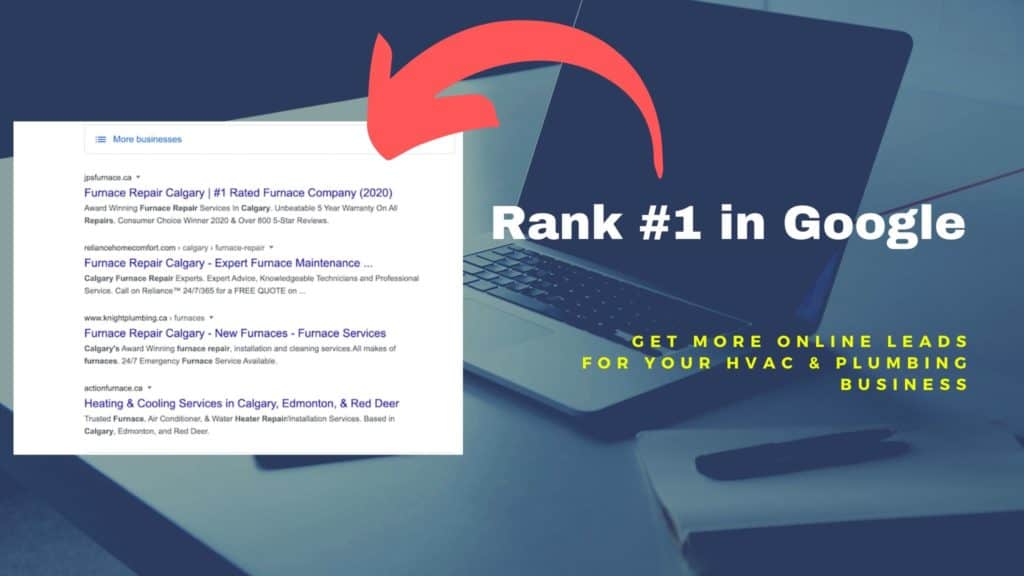 In our comprehensive SEO For HVAC Companies guide you will learn:
The fundaments of SEO for your HVAC and plumbing company
Finding the right keywords that you can rank for
Why blogging can be both good & bad for your business
What On-page SEO is and what you should do.
What local citations are and how do they help your SEO?
Some easy GMB optimization steps
Ways to build links to your site
Plus at the end, we will go through some of our top picks for websites and companies that are doing it RIGHT in the industry.
If you are ready for the most comprehensive no B.S guide for HVAC and Plumber SEO on the internet, let's jump right into chapter #1.
The Basics: SEO For HVAC Companies & Why It Is Important?
Here are the facts for HVAC SEO:
and here is the most important fact….
If you are not focusing on your SEO for your HVAC business you are missing out on a HUGE market of customers.
Getting Started With SEO for your HVAC Company
If you make it through this guide, you will have countless actionable ways you can:
Improve your HVAC and Plumbing SEO Rankings.
Start outranking your competitors.
Most importantly, start getting more customers from SEO.
Now SEO is not easy, it takes time and a lot of dedication to get it right; but if you follow this guide, I can guarantee you will see an improvement in the amount of traffic you will get and help you reach those BIG money-making top spots..
Don't believe me?
In just a few years, my previous employer and now client went from barely any website traffic to ranking #1 for the most competitive HVAC keywords in our market.
Each of our competitors were backed by their own marketing and SEO companies (just like your competitors have), and with these strategies, we managed to outrank all of them and EXPLODE our growth in our market.
We pushed past $10 million per year in revenue in just 3.5. years and are set to hit 15 million this year.
See our full case study here.
So, let's get started. I will move from some basic optimizations to some more advanced strategies. Please do not hesitate to give this a bookmark and save it for later or share it with your marketing team.
Website Structure & Internal Linking
You shouldn't think of Search Engine Optimization as ranking only the homepage of your website. There are thousands of HVAC keywords that customers can use to search for your services, and you should be giving each of your services its own dedicated page.
Why?
The goal of SEO is always to deliver the best and most relevant content to a searcher.
Relevancy is how well you cover a topic that a searcher is looking for.


Let's give an example…I'll use vehicles to take your mind outside of HVAC and Plumbing for just a moment.
You are looking for a new truck for your fleet. Let's say a Promaster. You go to Google and search "Dodge Promaster dealer for business"
Do you want to land on a website that talks about ALL the vehicles and cars they have, or, Do you want to land on a page that is dedicated to Dodge Promaster and other fleet vehicles?
It's quite simple.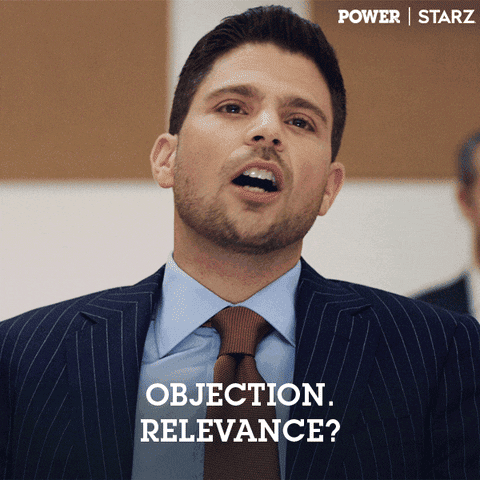 This is the same when someone lands on a page of your website. Showing them all of your other services and promotions doesn't benefit them at that moment. They want an AC, they don't need information about your furnace repairs.


Devoting more of your page to that service will help you add the keywords you are targeting in the right places.
Here is a quick guideline of pages you should have.
Page Structure for HVAC
Home
Heating

Furnace Repair
Furnace Maintenance
New Furnaces

Cooling

New AC's
AC Repair
AC Maintenance
Ductless Air Conditioners

Duct Cleaning (optional)
Contact Us
Service Areas

Service Location 1
Service Location 2
If you offer more services than this, you can create more pages for each of those. I would also recommend having an "about us" page, and a separate "contact us" page.
If you are a larger business and have multiple service areas and locations, you could go even further and create location-specific pages.
This could look like this:
Yourcompany.com/location/furnace-repairs/
This brings us to…
Finding The Right Keywords To Optimize For
This can be an in-depth topic on its own so we devoted a whole article to find the right HVAC keywords. I recommend checking it out as it has some great keywords for Google Ads and for SEO.
Understanding what people are actually searching for is the key to choosing the right keywords.
So how do you find what people are searching for?
Well, a very easy and basic way is just to go right to "Google Suggest".
Type in the service you want to target. In this case, we typed in "furnace"…
Google has now suggested us 7 keywords that we can add to an Excel spreadsheet..
These keywords are typically recommended because they are common searches related to the first keyword you put into Google.
You can also use "furnace repair", "furnace cleaning" and "furnace installation" to further refine this list. As you further refine the keywords you use, Google suggests a more detailed list and these keywords typically become easier to rank for.
Let's do a search for "furnace cleaning Calgary":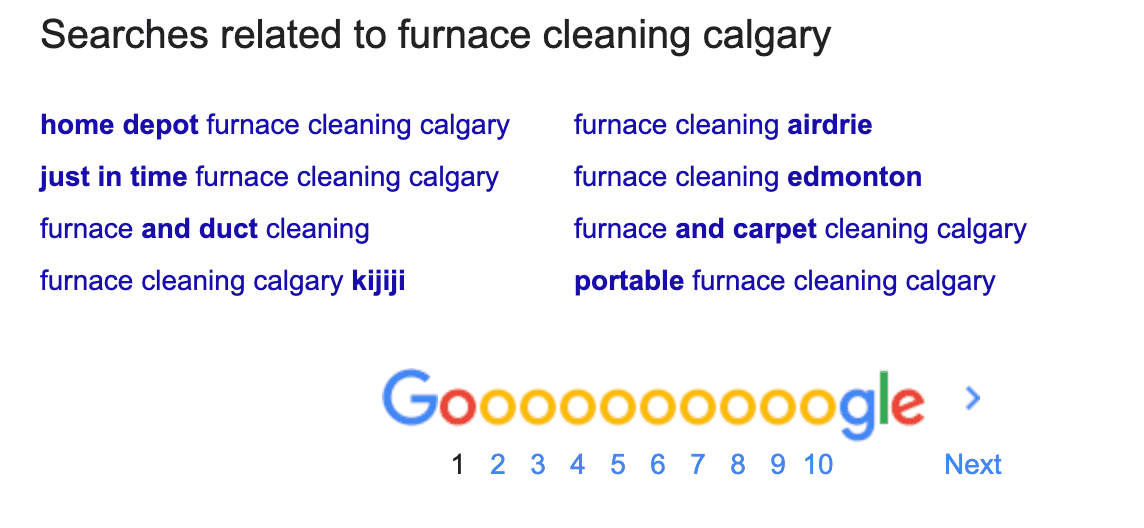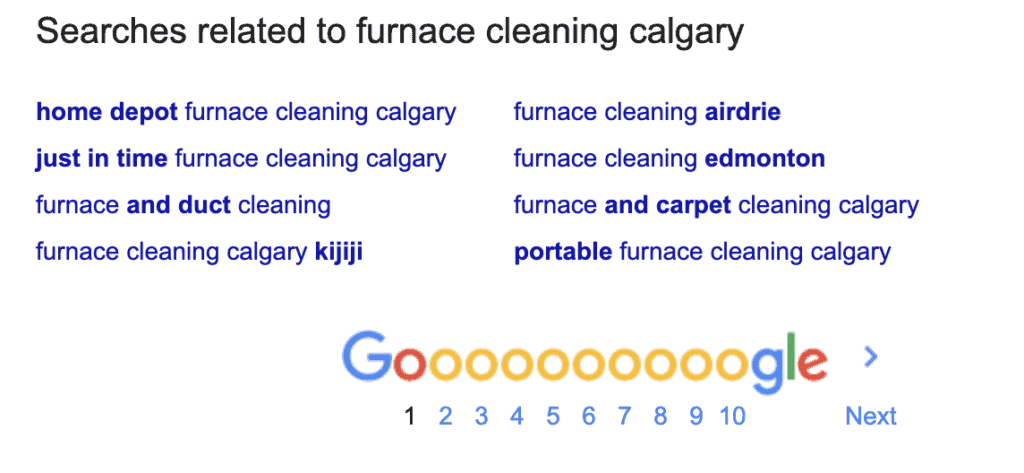 Scroll to the bottom of the page and you are about to find another 8 or so keywords directly related to "furnace cleaning Calgary"…
As we can see here, these keywords are very closely related and would be awesome keywords to include on your furnace cleaning or furnace maintenance page.
This is just a simple first step in finding some quick keywords worth targeting on your page, and you can do this with just about any HVAC or Plumbing service.
Check out our 5 ways to find HVAC & Plumbing keywords to get a comprehensive keyword research method as well as a generous downloadable keyword list you can use for your business.
Content Is King
Optimizing HVAC Google My Business Listing
Don't forget about the quickest way to get more leads for FREE for your business via your Google My Business listing. This is one of the easiest ways to show up in google maps more often and show up when customers are searching for you business.
How To Get More Google Reviews FAST
We all know getting more reviews is also crucial to improving your Google My Business rankings and your overall ranking on Google. We have an entire video showing you some of the tools your largest competitors are using to skyrocket their reviews.
I know what you are going to say. They are buying them, but I can assure you they're not.
On-Page SEO For HVAC Companies
Using the Keywords on Your Landing Page… Properly.
You have the right keywords and you know they should be grouped by each service. Now What?
Here is where things start to get more interesting… Most businesses already have their pages divided by service, and most likely their page talks all about that service already.
So why is that page not ranking? Well, there are many more reasons that we will dive into later in this article, but the following is a great foundational SEO technique and it is part of what is known as your HVAC and Plumbing website's "On-Page" SEO.
It's where you place your keywords on your page that matters.
Google looks at key parts of your page to find out what it is all about.
Yes, it reads the content, but it also reads the Page Title, Meta Title, and headings like H1 and H2, and it even looks at the names of the images on your page.
That means that the image called "img0556.jpg" is not doing anything for your Plumbing business' SEO..
So start putting our new found keywords in strategic spots. Let's go through some of the most important placements.
Below are some main placements where you should put your keywords, and they all help you tell Google more about your page and help improve your SEO.
Pro Tip: Don't stuff your keywords…..
A strategy that used to work many years ago was essentially mentioning the keyword 1000 times in order to trick Google into knowing what your page is about….
It doesn't work anymore…SO DON'T DO IT..
It doesn't serve to help your rankings, and quite frankly, it may just frustrate your customers when they read…
"We are ABC HVAC company that provides professional furnace repair services to help repair your furnace when you are in the need of a furnace repair company. Check out our warranties on furnace repairs and learn why we are the top rated company for furnace repairs.."
I almost couldn't finish that paragraph…..
Use variations and synonyms of your keywords… These you can find in the Google Suggested box and also in our awesome HVAC Keywords Article and Plumbing Keywords Article
The Page

Title

Obviously the title of the page is extra important. It is the first thing people see in Google search results, and it's the first thing they read at the top of the page.

Turns out, it's pretty important to Google as well.

According to MOZ, title tags are the second most important on-page factor for SEO, after content

Pro Tip: Include your keyword as close to the beginning of the title as possible.
Optimizing Headers
Your Heading 1 is the first heading on your page after the title, and it typically starts to introduce the topic you are writing about. It's also an important place to put your main keyword or even a variation of that keyword.
Pro Tip: Use only one H1 on your page.
Meta Title and Description
Have you heard of Yoast? It's an amazing SEO plugin for WordPress that will simplify your SEO process for your business. After you install this plugin, when editing a page on WordPress you will see it at the very bottom.
As you can see, you can enter in your main keyword or focus keyphrase, and you can also edit the SEO title and description.
This is the main title that is seen in Google Search and is extremely important.
Using the keywords in your description doesn't necessarily directly impact your SEO, but when someone uses your key phrase it is bolded in the search results as you can see in the image above.
This helps encourage more people to click on it, which does boost your rankings.
Image Name

& Alt Tag

Google uses these things called "bots", that crawl your website. Essentially it is an automated process that looks at all the elements of your website. The problem is these bots can't actually see what an image looks like, these bots just see images as pixels and the title & alt tag (e.g., image_056).

So how do you help tell Google what your image is?

Well, you can change the image title to your main keyword.

For example, instead of "image_056", it is now "furnace-repair-los-angeles.jpg."

You also change the "Alt Tag" (i.e., alternative tag)

This is what is displayed on your site if for some reason your visitors can't load or see your image. This is another important place to drop your main HVAC or plumbing keywords in.
Keywords In Content
Now placing your keywords on your page is important, but a helpful tip is to move that keyword into one of the first paragraphs on your page.
Plus be sure to use HVAC keyword variations…
This is obvious, but mix it up a little — use variations we spoke about earlier throughout your content. Don't stick to using the exact same keyword everywhere — Google is smart enough to know the relationship between hot water tanks and hot water heaters, so use both.
Optimize URL
This is also a quick fix, simply rename the URL of your page to include your keyword.
For example, this blog is all about HVAC and Plumbing SEO. These are keywords I have used throughout this blog, in titles, images, and also in my page URL.
Ok, we have checked off the basic SEO tips… If you have made it this far, you are already better off than most HVAC companies when it comes to improving their SEO…
Let's get more technical….
Mobile Friendl

iness

If you do not know this already, Google has what is known as a Mobile-First Index.

Most likely you are reading this article on your phone… If not, you are the minority of website visitors, making up around 40% of page visits.

Meanwhile, those mobile users consist of over 60% of searches…

In more simple terms, Google is crawling and indexing your web page based on how it renders (i.e., looks) on a mobile phone versus a desktop computer.

Check out more information here.

So, it's best you pull out your phone if you are not already on it and go to your website and see how it looks….Seriously, do it…

Can you easily navigate it? Is it loading fast enough? Are your images larger than your screen? Can you read all of the text and buttons?

If you have said no to any of these, you have a BIG problem…

Google recognizes these issues and will actually tell you all about them… You just need to set up a fancy and completely free tool from Google called Search Console.

Once you are all set up and you start seeing traffic, Google will actually give you a list of all the issues it has with your website.

These include things like buttons that can't be clicked on, or content that is bigger than the screen that is provided.

If you want to get your HVAC SEO improved, you are going to need to fix this ASAP.

Get your developer on it, or you can use an easy page builder like Elementor or Divi and look at the mobile versions of your website.
User Behaviour Metrics
Including HVAC and Plumbing Keywords on your pages is really only one small portion of your HVAC and Plumbing SEO. In reality, Google looks at more than 200 ranking factors.
So even in this detailed blog, we can only cover so many.
One important (and I mean HUGELY IMPORTANT) thing is improving what is known as your user behaviour metrics.
It sounds technical, but it is exactly what it sounds like: improving certain numbers that correlate with how someone interacts with your website.
The thing is Google can't ask every single person what they think about your website. It would be impossible…
So instead they have to infer this with data they can track.
This means taking into consideration the key metrics of how someone interacts with your website.
These includes things like Bounce Rate, Time on Page, Session Duration, etc.
We will go through each of these in just a few seconds and remember,
Do not hesitate to bookmark this page and come back later.
The thing is, these numbers are just numbers…. What is important is the story they are telling…
It's about improving how a REAL PERSON interacts with your plumbing or HVAC website, not about improving an arbitrary number.
So let's get started with…
Bounce Rate
According to Google, a bounce is a single-page session on your site
Bounce rate is the percentage of your total visitors that only view single pages.
Now, is a high bounce rate bad? Well according to Google, not necessarily.
In my opinion, a high bounce rate can mean that your content might not be exactly what someone is searching for. This is unless you are answering all of their questions on one page, which can happen.
So check out your plumbing and HVAC website's bounce rate in your Google Analytics dashboard.
Then filter Behaviour > site content > landing pages.
Here you can see the bounce rate of all your pages.
As you can see, my bounce rate is quite high. Now I know that's because I am very early in the building process of my website and I will see those numbers decrease when blogs like these get posted.
Also, 0% is not actually 0%. It usually just means there isn't enough data to make an average.
What's a good bounce rate to aim for?
Well, that is going to depend on your competition; however, I would recommend trying to shoot for under 50%. In reality, look at your current rates and simply aim to always improve them.
Pro Tip: Add a segment to your Google Analytics dashboard for desktop and mobile. Now you can see if your mobile pages outperform those same pages on a computer, and see how mobile-friendly your site really is.
Time on Page
This is another number that can infer how a customer interacts with your page. Keep in mind if your landing page is only 250 words long, don't expect a visitor to spend 5 minutes reading it.
This can be found in that same filter inside of Google Analytics and will show you how long each person spends on each page.
Pro Tip: If you have different designs for different pages, take a look at your best performing page designs. If they work well, consider using them for your other pages.
Session Duration
Session Duration is the total time someone spends on your site, and in my opinion, the best metric in determining whether or not someone has found what they are looking for.
For every page someone views on your website, they will have more content to read and consume, which means they will stay longer.
Each page has a purpose — your service pages are made to give customers a quick way to get what they are looking for, which in your case is a plumbing or HVAC service.
So, they will look around on your website to see if your business is legitimate. The longer the total time they have spent viewing your website, the better acquainted they are with your business, and ideally, the more likely they will be to call you and use your services.
So take a look at your session duration and work to improve it.
Blazing-Fast Load Time
In today's era, your page speed is important to improve your HVAC SEO.
A slow-loading page will cause your visitors to leave (i.e., bounce) and will cause you to lose potentially hundreds of thousands in missed revenue.
Some studies show that for every second delay in page speed, there can be a 7% reduction in new leads.
This means that if your website is generating $5 million in revenue annually, increasing your page speed by one second could see that number increase by $350,000.
Pretty easy way to make an extra $350,000.
What you should do is check your page speed…Use tools like Gtmetrix or Pingdom page speed and see how fast your website loads.
What is too slow?
47% of visitors expect a website to load in 2 seconds or less.
Now while that may be true, from our experience with HVAC SEO many businesses struggle to even achieve 5 seconds, so, 3 is sometimes more than enough to give your site a boost.
Pro Tip: Put your top 3 ranking competitors' websites in the tool. Then you can see a target page speed to beat.
Optimize Your Images
Images make your website look amazing. Showing off your work, your team, and your brand is great to build trust with website visitors.
The problem is, these images are large files, and they often slow your website down.
Many times we can reduce image size without having any noticeable loss in quality.
If you are using WordPress, you can use plugins like "smush images", or you can use a tool like https://webspeedtest.cloudinary.com/ that will analyze your pages and give you the optimized images.
Pretty cool and easy HVAC and Plumbing SEO boost.
The Home Page Matters
Your home page is most likely going to be the most powerful page of your website. That's because most links to your site (e.g., Yelp, BBB, Facebook, etc.) typically point directly to your home page.
This is why this page is so crucial. You want to be able to provide a clear path for a visitor to find what they are looking for.
Having your furnace repair page hidden away in your menu is not great for website visitors. Have a clear link structure. Show them quick links to get to the service categories.
Having visitors stay on your website and view multiple pages tells the Google gods that your visitors like your website, and that it is worth staying on, and thus giving you an SEO ranking boost.
Use A Better Web Hosting Service
Here we get a little technical, so, I'll simplify it: your web host, like a Godaddy or Blue Host, is crucial to your website's overall performance.
Having a big beautiful website is worthless if it can't perform, load fast, and give visitors what they want.
Think about it like having a nice Ferrari, but inside is an 86' Honda Civic engine. It's not going to hold up and definitely not going to impress the ladies…
If you are using WordPress, I highly recommend using Wp-Engine. I recently switched our client over to them and their page speeds, performance, and caching were so good I would never go back to any other hosting options.
If you care for the technicals, they have server-level caching, which is way better than plugins like W3 total cache. Plus, it has a built-in CDN which means that your website is stored on local servers closest to your website visitors, providing another big boost in performance and speed. They also offer a bunch of other awesome benefits
Seriously, check them out.
Blog, Blog, and Blog Some More
Blogs are important, but not just any blogs.
Time and time again, people blog about things that are irrelevant.
Yes, maybe you want to use a blog to promote an event you are having at your business, but writing blogs that won't be relevant within 3 months is pointless and a waste of your time.
Let me give an example… You could write a blog about Thanksgiving and 4 things about the holidays and share it with your current customers. Great way to stay in touch with them.
However, when that holiday passes, your blog is useless. No one will be searching for that subject again.
Now, here's what you could do: talk about the benefits of the products you offer (e.g., 6 benefits of furnace warranty).
Now someone who is looking for furnace warranties will be able to find that blog. Not only that, but customers will also always be looking for furnace warranty information in the future, thus bringing regular traffic to your site.
AND… if you write an in-depth blog, you will have other websites and people linking out to your website, which is a big WIN for SEO!
One blog has long-term value, one has short-term. Either way, blogging is super important.
This blog was made with that in mind. I wanted 1 mega piece of content that can help out HVAC and Plumbing Companies long after it is written.
Use Videos
Words, words, words. How often do you skim through pages of content? Even this blog you may have skimmed through.
This is where videos are amazing.
They are highly engaging, easy for customers to watch, they keep customers on your website longer (e.g., time on page, session duration), and they show off a bit of personality to your brand (i.e., build trust).
Don't think that you have to have a 4k video. Sometimes simpler is better, as people trust businesses that feel real. You are going into their home, after all.
The longer someone stays on your website, the better, and it may just be the differentiator between you and your competitor that makes them contact your business first. Win-Win.
Please Share and Subscribe to my email list to receive way more tips than just these. Plus check out my YouTube channel for more video content.
Off-Page SEO: How To Optimize Your HVAC Website For Google.
Consistent NAP
Get local citations
How To Find The Right HVAC Company